International Competition Announcement 2023
The International lineup for our 10th Anniversary Festival is here!
Here's who's competing (A-Z)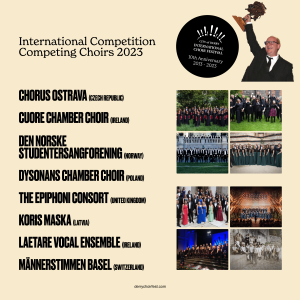 Between 18-22 October 2023, visiting choirs from around the world will travel to the Derry to compete for the Festival's International prize, and to bring their song to local communities throughout Derry, Strabane and Donegal.
On Saturday 21 October choirs from Norway, Latvia, Poland, Switzerland, the Czech Republic, the United Kingdom and Ireland will arrive at Derry's Guildhall ready to perform for this year's international panel of adjudicators. To find out more about this year's competitors visit our International Competitors page. They will compete for the Oak Tree of Derry trophy, the Festival's top International prize.
Derry Choir Festival has only grown in stature since this prize was first awarded in 2013, and is now a major attraction on the global circuit for the world's top competitive choirs. The Festival offers a unique experience for singers, due to the prestige of the competition and the vibrant life and beauty of the city. Previous winners of the Oak Tree of Derry have travelled from Estonia, Slovenia, Wales and Indonesia.
These choirs can also be heard throughout Festival week as they take their songs out into the city, performing in a programme of free community events. The Festival's busy schedule of community concerts and pop-up choral trail performances attract local audiences in their thousands each year, bringing visiting groups and local choirs together to perform throughout Derry City and the neighbouring towns of Strabane, Buncrana, Muff and Eglinton.
Visiting non-competitive choirs are Ensemble Illustre from the Netherlands, University of Monterrey & Beckmann Foundation Singers from the University of Monterrey and the Beckman Foundation in Mexico, and ÁR kórinn from Iceland. These fabulous choirs will also join the International competitors to take part in this year's Community Programme.
So who will take home the Oak Tree of Derry trophy at this year's festival!?
Join us 18-22 October 2023 to find out!